Protecting women and children from the dangers of unregulated Oxytocin in Pakistan, fighting measles outbreaks in the Democratic Republic of the Congo, or analysing the benefits of search and rescue operations in the Mediterranean: At Médecins Sans Frontières Luxembourg, an international team of operational research specialists is looking for better responses to today's pressing humanitarian challenges.
Médecins sans Frontières (MSF) provides medical assistance to vulnerable people in over 70 countries, often responding to humanitarian emergencies in difficult settings with ongoing conflicts or limited access. Based at MSF's Office in Luxembourg, the operational research unit LuxOR supports projects to adapt to the fast-changing operational circumstances, identify gaps in medical assistance, or ensure new interventions are effective.
With its 10 members working in Luxembourg and Brussels, the LuxOR-unit runs over 50 research projects and contributes to over 100 publications in scientific journals every year. The projects thematically cover the wide range of MSF's worldwide operations: maternal and child health, infectious diseases like malaria, cholera or measles, forced migration, emergency relief, or community based medical care.
In all its analyses and studies, the LuxOR-team looks at constraints and challenges of an intervention, collects and analyses related data, and finally uses the findings to recommend solutions or advocate for policy and practice change. At MSF, operational research is understood as the science of doing better – namely by providing better medical care to the most vulnerable.
In the Democratic Republic of the Congo (DRC), for example, a LuxOR-study recently evaluated a new approach to fight measles outbreaks. Over 70% of the country's population – almost 50 million people – live in rural areas with limited or no access to health care facilities, and infectious diseases like measles break out regularly. While the standard strategy to fight such outbreaks starts vaccinating in the densely populated and easy-to-access areas, MSF developed a rapid response mechanism aiming to contain an outbreak in its remote epicentres.
In the Democratic Republic of the Congo, operational research helped evaluate a better way to fight measles outbreaks with targeted vaccination campaigns. Picture: Candida Lobes/MSF
Analysing data from DRC, LuxOR was able to show that using the new method, less people are infected with measles and fewer patients die – at similar overall coverage rates. These promising findings are now used to update MSF's measles vaccination strategy in DRC and other countries.
While the results of LuxOR's studies generally get published in peer-reviewed journals and are publically available online, the work merely starts with scientific publications. Operational research evidence builds the grounds to advocate for changing policies and practice with partners and stakeholders at local, national, and international levels.
An operational research study on search and rescue operations conducted by humanitarian NGO's provided evidence for their contribution to improved safety at sea. Photo: Anna Surinyach/MSF
Over the course of politically charged debate on refugee crisis in the Central Mediterranean Sea in 2015 and 2016, the LuxOR-unit was commissioned to explore some of the migratory trends, incidents at sea, and the contributions of different rescue actors. Running dedicated search and rescue operations, MSF and other NGO's faced allegation of encouraging refuges and migrants to take to sea, and of deteriorating maritime safety.
LuxOR analysed data on attempted sea crossings recorded by the International Organization for Migration (IOM), UNHCR, and MSF's own reports of rescue at sea, and used geo-spatial mapping of rescues and accidents at sea to visually assess patterns. The study results then painted a different picture of the humanitarian search and rescues operations at sea: there was no significant increase in attempted sea crossings with humanitarian NGO-vessels at sea, and 59% fewer migrants and refugees died thanks these operations.
In a different project in Pakistan, operational research findings are about to reduce a serious health risk for mothers and their newborn babies. Back in 2015, a study conducted at the District Headquarter Hospital in Timergara showed women receiving unregulated labour-inducing drugs like oxytocin are more likely to suffer uterine ruptures, and their babies are at significantly greater risk of birth asphyxia and stillbirth.
In Pakistan, MSF is looking to move research findings into concrete policy and practice change to reduce health risks for mothers and their newborn babies. Photo: Nasir Ghafoor/MSF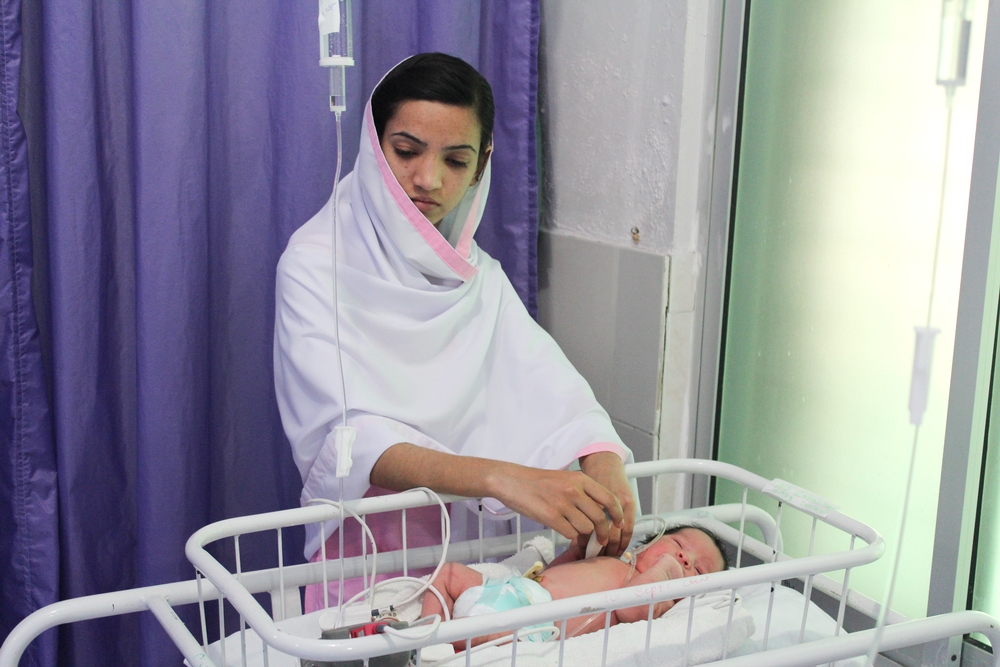 While only trained gynecologists are allowed to administer labour-inducing drugs, oxytocin is available in local pharmacies and often requested by in-laws or community members to speed-up deliveries. Based on the study's evidence, MSF is currently launching a dedicated strategy together with the Ministry of Health. By training health workers and medical professionals and informing patients and communities on the risks of unregulated oxytocin, research is here translated back into improved health policies and practice.
In addition to the ongoing research support, LuxOR is also regularly training field staff and members of partner organisations on how to independently conduct and publish research. In several dedicated courses per year, participants learn how to formulate research questions, collect and analyse relevant data, and write a paper for publication in a scientific journal. In 2017, courses took place in Kenya, Ethiopia, South Africa and Lebanon, as well as in Luxembourg with a specialised course focusing on current challenges with water quality, sanitary conditions, hygiene standards, and infection control.
Detailed information on LuxOR's ongoing projects and the team of researchers is available at or.msf.lu. All operational research supported by MSF is published open-access and available for free at fieldresearch.msf.org.